At Express Medical Transporters, we are uniquely qualified to serve as your non-emergency medical transporter. We are the contract transporter for more than 50 clients, including
School districts
Hospitals
Medical clinics
Nursing homes
Dialysis centers
Insurance companies
Doctor's offices
Adult day centers
Assisted living centers
Cancer treatment facilities
and more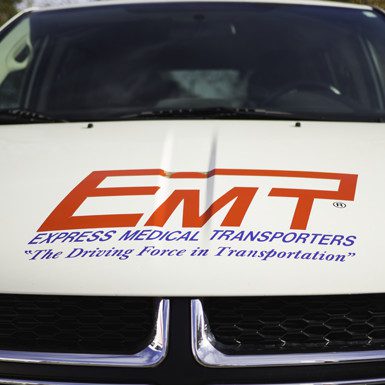 We have invested in the people, processes, and technology to comply with all organizational and legal requirements.
Our Vehicle Fleet
Our fleet is fully insured and meets federal, state, local, and ADA safety standards. Each vehicle is routinely inspected and satisfies all state, county, and city licensing requirements, displaying current motor vehicle inspection stickers and state-issued license plates. Our fleet includes
Wheelchair-lift-equipped vehicles,
Stretcher vans,
Large passenger vans,
Sedans,
and more.
Our Professional Staff
Our drivers go above and beyond the services of typical drivers. They are an attentive, caring team that takes great pride in making a difference – day in and day out. Our team is experienced and specially trained to serve those with special needs, disabilities, or medical conditions, providing door to door assistance while helping our clients in and out of the vehicles.
We only hire or contract with the best.
At Express Medical Transporters, our team of drivers is what separates us from any other contract transporter. We only hire or contract with those individuals who have a deep desire to serve with compassion, take pride in delivering great service, and demonstrate the clear qualifications to do so. 
Our Certification Process is rigorous.
Before our drivers ever transport a passenger, they must complete a pre-service certification program. Entailing 14 separate courses and certifications, the program covers vehicle and driver safety, emergency procedures, medical proficiency, sensitivity course, and assistance for children, the elderly, and those with disabilities. Below, we've summarized the courses in our detailed training program.
Simplify your organization's medical transportation.
As a trusted non-emergency medical transporter and alternate student transportation provider, EMT can give you peace of mind and a worry-free experience. To provide needed transportation, give us a call today at 314-781-6400.
GET IN TOUCH TODAY!
We're proud of the solutions we provide to our clients, and we are happy to provide specialist transport support.