Specialized student transportation services: in-house vs. outsourcing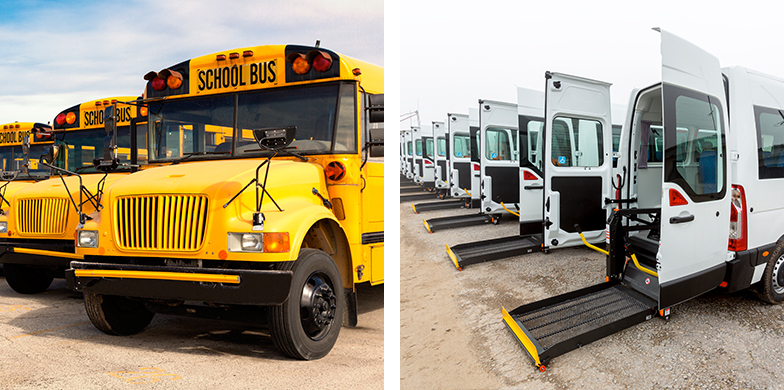 Every child deserves an education, but many face an uphill battle to get one. Getting to and from school in a safe, timely way shouldn't be one of them. For that reason, it's long been standard practice for districts to provide rides for all students. Federal law even requires all states to provide transportation for students in special education programs.
But for many districts, providing quality transportation to some students is a major challenge. Simply put, not every student fits conveniently into traditional busing models. So, what's the best solution for these students? Let's start by defining the unique challenges and goals of specialized school transportation.
Transportation challenges and goals
The goal for schools is to provide every student with a quality education, no matter the struggles or hardships they face. For students with special needs, meeting that goal means providing compassionate transportation assistance, creating a sense of routine, and ensuring they safely reach school on time.
Often, the biggest challenge for schools is finding the right mode of transportation for these students while minimizing costs. Students who require specialized transport face a range of unique challenges, including:
For districts looking to transport these students, traditional busing is either impossible or highly expensive. A specialized transportation solution is required.
Why outsource to a specialized service?
Depending on the size of your student population, available human resources and vehicles at your disposal, outsourcing specialized transport may make sense for your school system. If you do outsource to a specialty service, you can reap a range of benefits.
Solutions for logistics and cost headaches
Many districts use set bus routes strategically planned around student locations, school start times and route sizes. To pick up students outside the routes, many districts require extra routes or individual rides, and cost can become prohibitive.
A specialized transportation service using smaller, cheaper, more fuel-efficient vehicles can reduce the cost per route and solve logistics headaches. The right partner should provide flexible billing arrangements that further reduce cost and streamline financial reporting.
Reliable, specialty drivers and vehicles
Specialized transportation services can provide highly trained, thoroughly vetted drivers trained in providing compassionate assistance for passengers with unique disabilities. Specialty drivers will often use customizable vehicles that can provide wheelchair transport and other unique solutions.
By outsourcing transportation to a specialized service, districts can reduce or eliminate risk. Quality services will carry full insurance for drivers and vehicles and take on any and all risk of employee negligence or misconduct. In combination with highly trained drivers, specialty services can provide better safety and a better experience for students.
Selecting the right transporter is critical
You'll want a trusted partner who provides compassionate assistance to your students and reliable, safe transport. The right transportation service should contract flexibly with you, reduce your risk and have a strong team of thoroughly vetted, highly qualified drivers. At Express Medical Transporters, we've made it our mission to provide all of the above and more for our clients and passengers. Fill out the form below to learn more about budget-friendly solutions for specialty transportation needs. Or, call us anytime at 1-844 RIDE-EMT (1-844-743-3368) with any transportation questions.
The complete guide to specialized school transportation
Traditional busing doesn't suit every student. Learn how to economically supplement your busing program.
"*" indicates required fields