Reducing school transportation costs with specialty transport
School transportation has long been a core service provided by districts nationwide. But some students simply don't fit the traditional busing model, presenting districts with significant challenges. These students may face a range of unique circumstances and difficulties, including:
To best serve these students, outsourcing to a specialty service is often the best choice. The right specialty transporter can be a cost-effective complement to busing used for the majority of students. You can get a great value, along with compassionate, safe, reliable transport for students with special needs.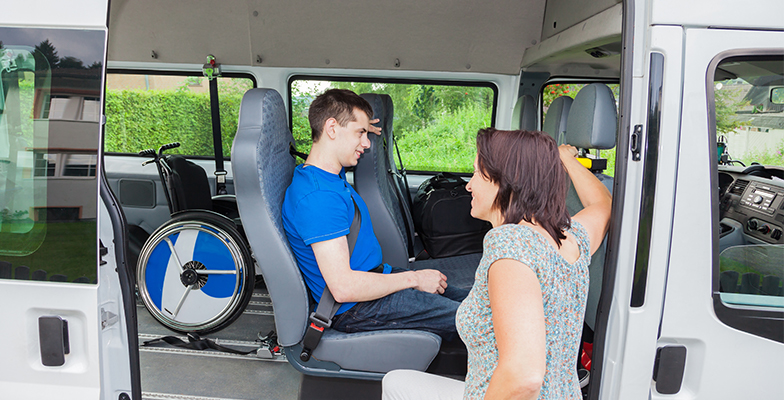 Factors affecting the cost of transportation
A range of factors can impact the cost of school transportation, including:
Matching vehicles and trips to the needs of students to get a good value
Specialized transporters use smaller, less costly, more fuel-efficient vehicles. When properly allocated, they can reduce the cost per route and improve route logistics as a complement to buses. For instance, if students live outside the district or far away from the majority of students, you may have small bus routes with unused capacity. In these cases, a smaller vehicle with less capacity can reduce costs vs. busing.
A passenger mini-van, for example, that can hold seven students may maximize a particular route by reducing or eliminating unused capacity. It will be more fuel-efficient and provide a better overall experience for students who deal with severe disabilities. That same mini-van may be a better answer for that trip outside of the district in a rural area or hard to reach spot.
If you are transporting students with special needs, specialty services may be not only more cost effective, but also the only option. In other instances, the size of a bus makes it difficult to reach a certain area, also making a specialty school transportation service the only option.
Partnering with a specialty school transporter on changing needs
Student transportation needs change during the year, so having a transportation option that can expand and contract provides flexibility. The right partner will allow you to easily and cost-effectively contract for as many or as few rides as you need without added costs.
Capturing value with flexible billing
A specialty school transportation partner can provide flexible billing arrangements that further reduce cost and streamline financial reporting. Whether you need a custom arrangement where you bill per student, per route or otherwise, you'll want a company that has the flexibility, staff and technology to operate within your billing system.
Supplying monitors and aides to reduce costs
By supplying your own in-transport monitors or aides for students who require them, you'll eliminate the need for your transporter to provide them, reducing your costs.
Let's talk about your transportation needs
At Express Medical Transporters, we work in partnership with you to deliver not only safe, compassionate transport, but also provide it with value-added planning around your needs. Give us a call at 1-844-RIDE-EMT (1-844-743-3368) or contact us here to learn more about our transportation services.
The complete guide to specialized school transportation
Traditional busing doesn't suit every student. Learn how to economically supplement your busing program.
"*" indicates required fields