At Express Medical Transporters, we are uniquely qualified to serve as your non-emergency medical transporter. We are the contract transporter for more than 1,000 clients nationwide, including: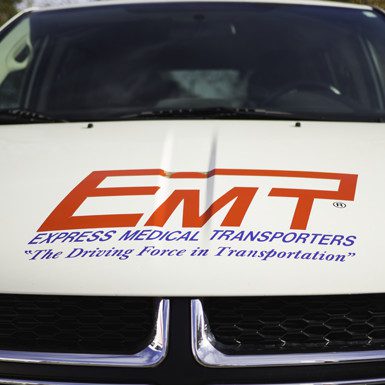 We have invested in the people, processes, and technology to comply with all organizational and legal requirements. Combining flexible budget solutions with a highly trained, caring team and an extensive fleet of vehicles, we can meet the highest-volume transportation contracts.
We have more than 350 vehicles in our fleet nationwide, each with the latest GPS navigation. With our extensive fleet, we have the unique flexibility to offer the shortest wait times. You can always count on us to show up on time, in vehicles large enough to accommodate a group — no matter when or where a pick-up or drop-off is needed.
Our fleet is fully insured and meets federal, state, local, and ADA safety standards. Each vehicle is routinely inspected and satisfies all state, county, and city licensing requirements, displaying current motor vehicle inspection stickers and state-issued license plates.
Our fleet includes:
Our trained, professional staff
Our field service representatives (FSRs) go above and beyond the services of typical drivers. They are an attentive, caring team that takes great pride in making a difference — day in and day out. FSRs offer door-to-door assistance and help our customers in and out of vehicles. Our team is experienced and specially trained to serve those with special needs, disabilities, or medical conditions.
At Express Medical Transporters, our team of FSRs is what separates us from any other contract transporter. We hire only those individuals who have a deep desire to serve with compassion, take pride in delivering great service, and demonstrate the clear qualifications to do so, including:
FSRs must possess valid driver's license(s) as required by the governing jurisdiction(s), which is verified by EMT's management on employment. A copy of the valid updated license is maintained in the driver's individual file.
FSRs must pass an annual DOT physical exam administered by licensed medical personnel who are familiar with the exam and its requirements.
FSRs must document at least one year of safe driving experience.
FSRs must have a Motor Vehicle Record check (MVR) through the state Department of Motor Vehicles. All drivers must have and maintain a clean MVR for the past 36 months and may not have had a conviction or forfeiture of bond for hit and run, a suspension or revocation of driving privileges during the previous 48 months, or a DWI or DUI conviction — ever. Once on staff, rechecks of the MVR will be obtained every year. We do not hire drivers who fail to meet these requirements.
FSRs must document experience and expertise in transporting individuals who are elderly or have disabilities. On employment, this documentation may be from previous job experience working with the elderly or persons with disabilities and must be verified by previous employer management. Drivers may obtain this training after hire and before transporting these types of passengers. Drivers will be supervised until they demonstrate proficiency.
FSRs must participate in alcohol and substance abuse testing based on the guidelines and procedures established by the DHHS in 49 CFR Part 40.
FSRs must not operate an EMT vehicle under the influence of alcohol or drugs. They also must not operate an EMT vehicle when under the influence of a prescribed or un-prescribed medication that impairs driving skills.
The following information is located in our driver's personnel file:
Before our FSRs ever transport a passenger, we have them complete our thorough, rigorous pre-service training program. Entailing 14 separate courses and certifications, our program covers vehicle and driver safety, emergency procedures, medical proficiency, sensitivity training, and assistance for children, the elderly, and those with disabilities. Below, we've summarized the courses in our detailed training program:
a. Using division of senior and disability services materials as the framework for training
b. Types of abuse and neglect
c. Signs of abuse and neglect
d. Communication and reporting requirements and processes
e. Elder abuse and neglect hotline
a. Disability awareness
b. Assisting passengers with disabilities
c. Service delivery requirements
d. Civil rights compliance
a. Successful completion of course materials
a. Successful completion of course materials
a. Create awareness
b. Re-affirm policies and procedures
c. Identify symptoms involved in drug and alcohol abuse
a. Environmental assessment
b. Fire safety and extinguisher use
c. Disable vehicle procedures
d. Emergency contact list and usage
e. Securing important information
a. Client privacy and confidentiality
b. Information and record management and handling
c. Receipt of client signature
a. Orientation to exposure and controls
b. Orientation to occupational risks
c. Universal precautions
d. Protective clothing and equipment
e. Medical evaluation and interventions following exposure
a. Effective body mechanics
b. Effective client communication
c. Emergency contact list and usage
d. Completion of incident and accident form
a. Use service area-specific information to build safe and efficient navigation skills
a. Successful completion of course materials
a. Orientation to T-Mobile equipment
b. Demonstrate a clear understanding of communication to use for client-related service and emergency situations
a. Inspection of vehicle interior and exterior
b. Inter-company communications regarding vehicle condition
c. Documentation, follow-up, and attestations
d. Completion of the vehicle inspection form
a. Safe passenger loading and unloading
b. Wheelchair handling and securement
c. Lift operations
d. Assisting passengers with disabilities
e. Emergency procedures
Simplify your organization's medical transportation
As the most trusted non-emergency medical transporter nationwide, EMT can give you peace of mind and a worry-free experience. To provide needed transportation for your patients or students, give us a call today at 314-781-6400.
We're proud of the solutions we've provided to healthcare and education facilities.
Request our case study portfolio and see examples of our work.